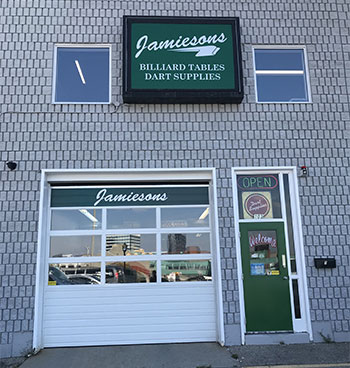 Complete Billiard Sales and Service
In business since 1929, Jamiesons Billiards Sales & Service is a supplier of some of the finest and most popular billiard tables available. Jamiesons carries traditional and modern tables, those that are designed for condominiums, commercial tables, used and refurbished models, and custom-made billiard tables.
Canadian Proud 
Many of the billiards tables Jamiesons carries are Canadian made. Known for superior quality and customizable options, Jamiesons Billiards can help you find the best gaming products to meet your specific needs.
Options to suit your needs
We carry many billiard table models that are ideal for all uses. From smaller tables which work best in condos or spaces with restricted space, to full size tables for rec rooms and commercial uses.
Delivery, Service & Repair
Service is also important at Jamiesons. We will deliver and set up your new billiard or gaming table. When repair service is requested, we will pick up your table, repair it at our location, then deliver and set it back up at your location.
Contact Us
We are always on the ball here at Jamiesons Billiards and we invite you to come and visit our large showroom at 103 Ontario St. S. in Kitchener or give us a call with any questions at 519-745-4053.